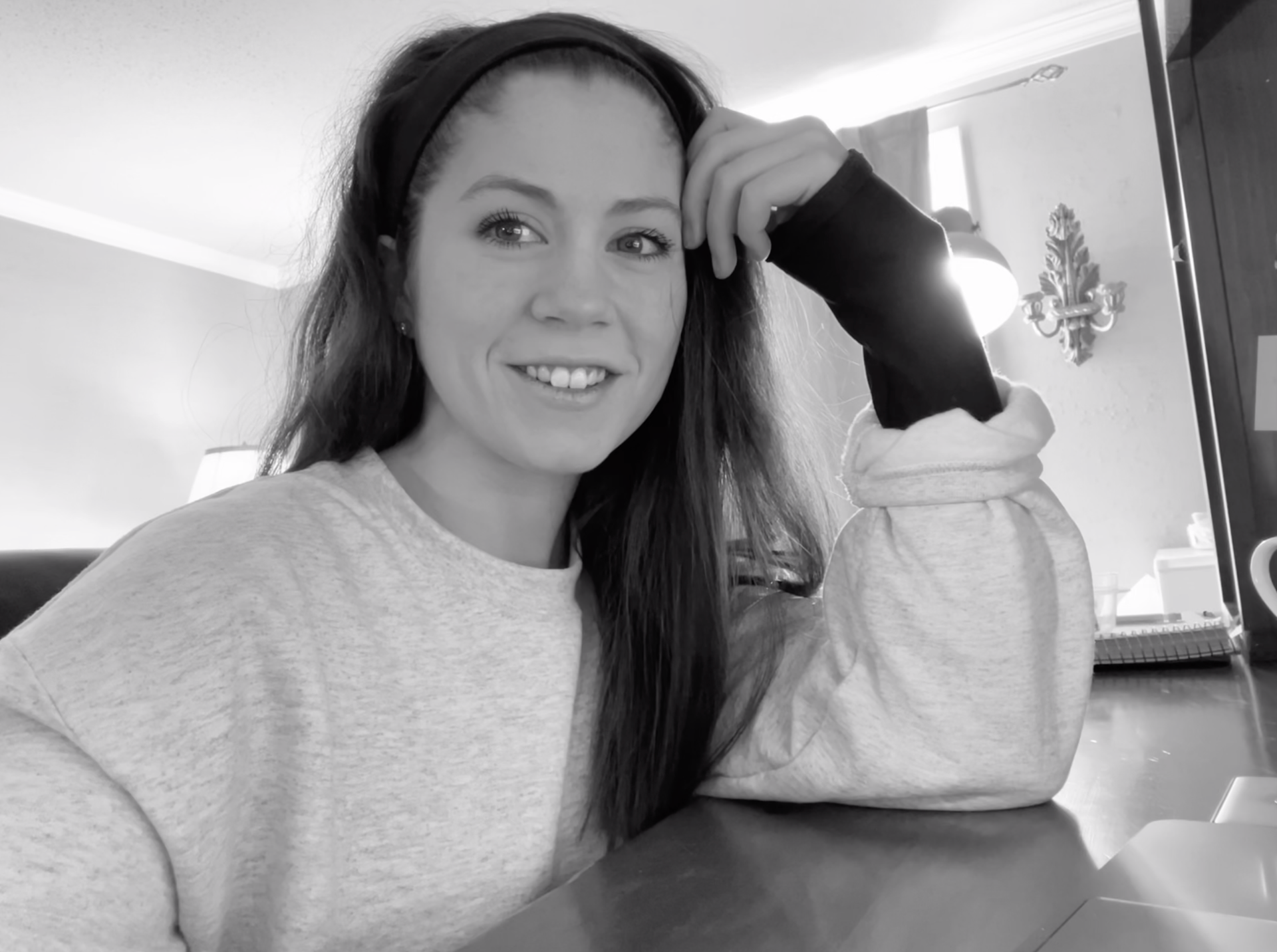 raised:

 in a clothing store.
favourite tv show as a kid: 

infomercials.
proudest lightbulb moment:

 making a dress out of a plastic bag when i was four. 
likes: 

flavoured coffee, early mornings, john oliver, beer pong. 
dislikes: 

horror movies, turtle necks, country music, beer. 
dream client: 

john Oliver
favourite part about adland:

 i get to walk in new shoes everyday.
2014-18 // st.fx university, nova scotia (economics)
2017 // whitehair.co, london u.k (pr internship) 
2018-20 // miami ad school, toronto (art direction)
fall 2019 //  saatchi & saatchi, new york city (interning art director) - worked on tide, olay, pampers, atlantis resort, crest, visalign, hair food and norskfire.
winter 2020 // AKQA, tokyo (interning art director)  - worked on youtube, hyperice, and evian.
SPRING 2020  // rethink, toronto (interning art director)  - working on heinz, philadelphia cream cheese, ikea, truss, molson, emergence foundation and coors light.
sUMMER 2020 // RETHINK, TORONTO (FULL TIME ART DIRECTOR) - WORKING ON HEINZ, IKEA, WESTJET, EMERGENCE FOUNDATION, scotiabank, KRAFT DINNER, SCOTTS, Molson Coors, etc.
one show shortlist (results tbd), ooh single // wait for heinz (2021) 
WEB

BY WINNER // SIX BRICK KIT (2021)
FUTURE LIONS SHORTLIST // SIX BRICK KIT (2021) 
CLIO award winner, gold // SIX BRICK KIT (2021)
d&ad new blood winner, yellow pencil // six brick kit (2020)
d&ad new blood academy pitch winner // made with sunshine (2020)
one show ads merit winner // six brick kit (2021) 
young ones portfolio winner (2020)
clio award winner, bronze // nike minus (2020)
creative conscience winner // pay the price (2020)
creative conscience finalist // six brick kit (2020)
creative conscience finalist // locaid (2020)
creative conscience finalist // first raid kit (2020)
adcc gold winner // locaid (2020)
adcc bronze winner // google gaps (2020)
summit int'l awards gold winner // newsfreed (2020)
summit int'l awards bronze winner // the renew collection (2020)
communication arts winner // six brick kit (2020)
communication arts winner // locaid (2020)
communication arts winner // nike minus (2020)
applied arts winner // nike minus (2020)
webby awards nominee // google gaps (2020)
webby awards nominee // the renew collection (2020)
muse creative awards winner, silver // google gaps (2020)
new york festival winner, bronze // truth translator (2020)
clio award winner, silver // truth translator (2019)
young ones pencil winner, bronze // truth translator (2019)
future lions shortlist // truth translator (2019)
future lions shortlist // pay the price (2019)
applied arts winner // truth translator (2019)
applied arts winner // pay the price (2019)
communication arts shortlist // truth translator (2019)
communication arts shortlist // newsfreed (2019)
communication arts shortlist  // google gaps (2019) 
summit int'l awards winner, best of show // pay the price (2019)
adcc winner, gold // truth translator (2019)
adcc winner, silver // truth translator (2019)
adcc winner, silver // newsfreed (2019)
adcc winner, bronze // newsfreed (2019)
adcc winner, bronze // pay the price (2019)
live client winner, gold // check your bits (2018)
live client winner, silver // gen 3s (2019)
live client winner, bronze // new year's party (2020)
miami ad school top dog (2019)
ADAGE CREATIVE PICK OF THE DAY // wait FOR HEINZ (2021)
ADAGE CREATIVE PICK OF THE DAY // MADE WITH HEINZ (2021)
ADAGE CREATIVE TOP 5 OF THE WEEK - #3 // wait FOR HEINZ (2021)
ADAGE CREATIVE TOP 5 OF THE WEEK - #1 // MADE WITH HEINZ (2021)
DESIGN TAXI // wait FOR HEINZ (2021) 
BLOOMBERG // wait FOR HEINZ (2021)
NASDAQ // wait FOR HEINZ (2021) 
Fox News // wait for heinz (2021)
msnbc // wait for heinz (2021) 
yahoo // wait for heinz (2021) 
msn // wait for heinz (2021)
narcity // wait for heinz (2021) 
thrillist // wait for heinz (2021) 
YAHOO.CA // wait FOR HEINZ (2021) 
GLOBE AND MAIL // wait FOR HEINZ (2021)
NARCITY // wait FOR HEINZ (2021) 
GLOBAL NEWS // Black Friday SAVINGS (2020)
NARCITY // Black Friday SAVINGS (2020)
communication arts annual // six brick kit (winter 2020)
communication arts annual // nike minus (winter 2020)
communication arts annual // locaid (winter 2020)
la réclame // six brick kit feature (2020)
212 advertising // six brick kit feature (2020)
pod spot // six brick kit feature (2020) 
marketeris // six brick feature (2020)
muse by clio // muse recruits feature (2020)
ads of the world // google gaps (2020)
ads of the world // six brick kit (2020)
applied arts annual // pay the price (2019)
applied arts annual // truth translator (2019)
ads of the world // dna whopper (2019)
the message // adcc winners coverage (2019)
advertising south africa // young ones winners coverage (2020)
shoot publicity wire // young ones winners coverage (2020)
little black book // young ones winners coverage (2020)
best media info // young ones winners coverage (2020)
branding in asia // young ones winners coverage (2020)
strategy magazine // young ones winners (2020)